There's a lot of power in our thoughts – especially in childbirth! Positive thoughts help promote a positive environment to bring a baby into this world. Some people may think that sounds silly, but our bodies and minds are connected. Our thoughts can impact our stress hormones, which can impact how labor will go, and impact how we feel and view our birth experience.
The more you believe in yourself, the more likely your body will relax and do its thing. The more you relax, the more manageable the contractions (or surges for those who do Hypnobirthing) are for vaginal births. Birth affirmations are even helpful leading up to and after Cesarean delivery if that turns out to be medically necessary – especially if it was unplanned.
I love seeing affirmations in birth spaces
I found that it helped me get into the right mindset for birth to hang up positive birth affirmations all over my house / apartment months before my "guess dates" (due date). The more I saw them, the more I believed them, and my affirmations became common thoughts in my brain.
Birth affirmations have had positive results for my clients as well. 🙂
I hung them up on my bathroom mirror, kitchen cabinets, hallway, living room, wherever I knew I would see them.
Hang them at home, then take them with you to the place you plan to give birth
I made mine easy to remove so I could take them with me to the birth center or hospital when it was time for my first kid to be born. I left them on the wall at home when my second kid was born – because he was born at home. (On purpose). Read his birth story here.
Writing your own birth affirmations
There are plenty of sellers on Esty or online (scroll down to see some of those options) where you can buy PDFs of birth affirmations and print them yourself, or pre-printed birth affirmation cards.
I wrote birth affirmations myself in my third trimester. I found writing birth affirmations down soothing because, as I wrote, it was like writing the words on my heart.
I did a few cards at a time. You don't have to do them all in one sitting! 🙂
Things you will need:
Paper or note cards (I use 5×7)
Marker, Pen or Paint to write with
A list of birth affirmations you connect with
A way to hang them (painter's tape, cloth pins,etc…)
Birth Affirmations
Look at the affirmations below and pick the ones you connect with. Then write them down, along with any other positive affirmations that come to mind that you want to remember as you read the list.
You got this
Inhale peace, Exhale Tension
My baby and I are working together
I am relaxed, safe and calm
I birth with ease
one breath at a time
just breathe
every surge (or contractions) brings me closer to my baby
I can do hard things
I can do anything for 10 seconds (shout out to Unbreakable Kimmy Schmidt. haha.)
I am not alone
I am at peace
I am NOT afraid
I will birth fearlessly
I birth with ease
This too shall pass
My mind is calm
one breath at a time
I am birthing with others around the world
Women around the world are birthing with me
birth is joyous
my baby moves down smoothly
Breathe baby down.
release, relax, open
I soften, I open, I release
everything is going well and working as it should
my body and baby will tell me what I need
Me and my baby are safe
I am stronger than this pain
I am stronger than I think
It's not pain, it's progress
It's not pain, it's power
My courage is stronger than my fear
I am doing the best I can with what I know
I will meet my baby soon
Cesarean section IS birth
Belly birth IS birth
I made the best informed choices for my baby.
I chose a birth team that keep us safe.
Not feeling super crafty or creative? Want more inspiration? Download a pack of cards I designed for FREE!
FREE Printable Birth Affirmation Deck by Kristen Schell
I made a six page printable PDF that has four birth affirmations on each page. It's not quite like my hand scripted one on this page but pretty close! Print them on card stock, cut them, decorate them (if you want) and hang them up! Enter your email address to get the PDF sent to your email inbox!
Birth Affirmations for Purchase Elsewhere on the Web
Has inclusive illustrations of people of different skin color, abilities and gender identity!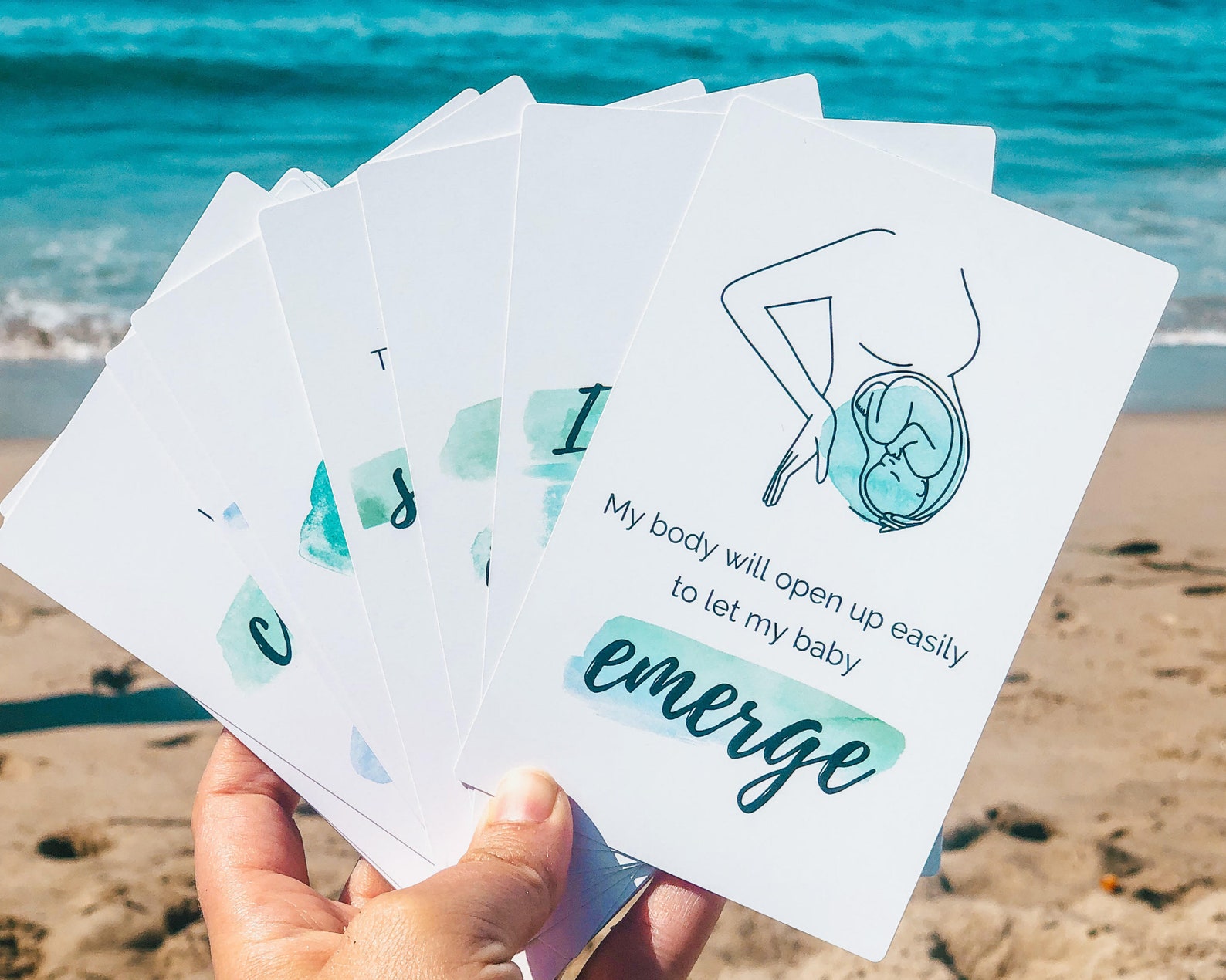 Has affirmation cards catered for natural birth using the HynoBirthing method
Has affirmation cards catered for VBAC (Vaginal Birth after Cesarean)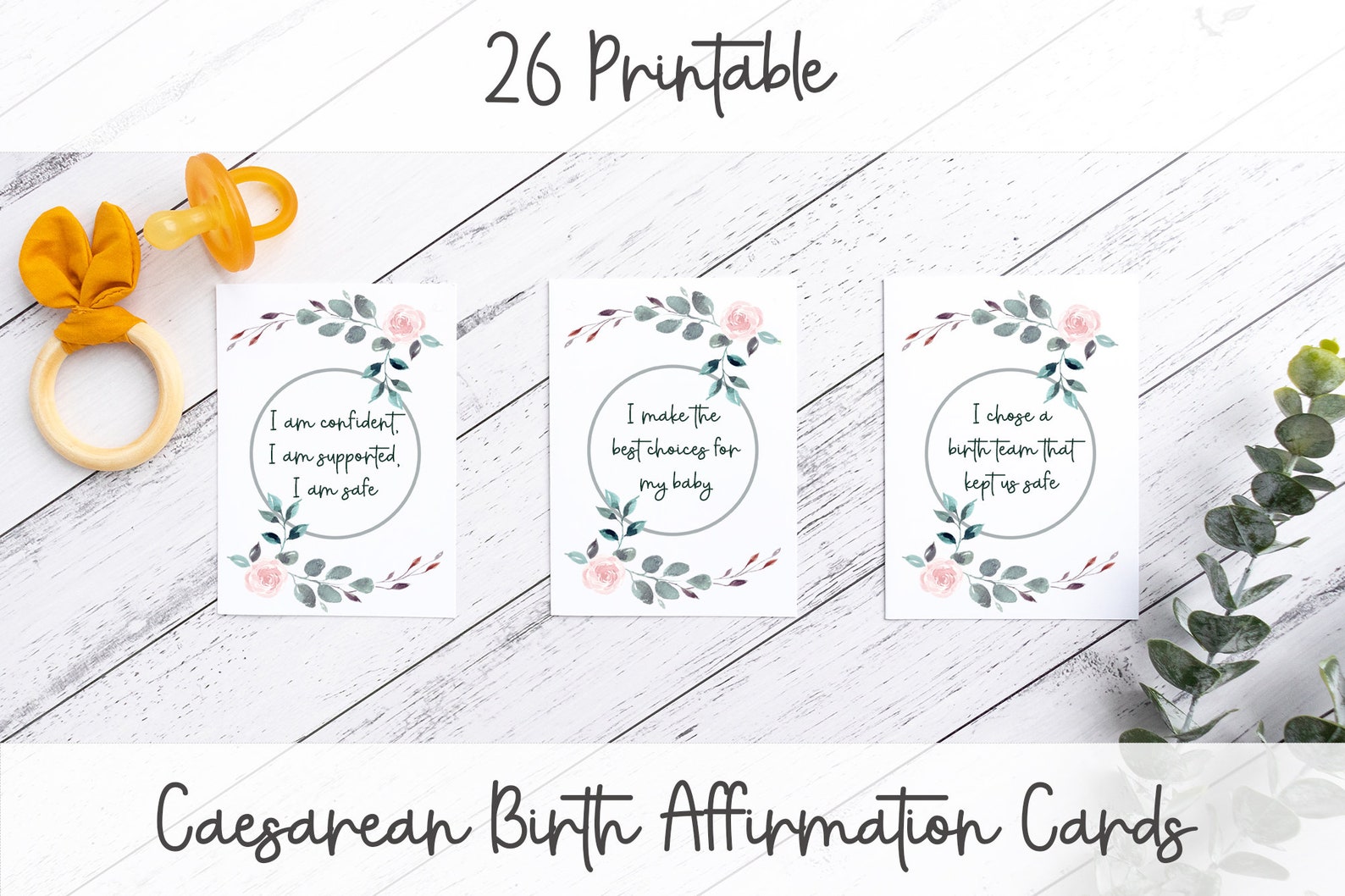 A set of printable cards to help promote a positive birth environment for a birthing person and their partner before and after a caesarean birth.